Credentials are required for the Rule Execution Service to connect to the catalog. By default, the System credentials will be used. 
Step 1: Create Credentials for Execution Purposes
The credentials are created in the Web Catalog Manager when adding or editing a user. For more information on how to create them, refer to Setting Catalog Credentials.
Step 2: Set the Credentials in on the Configuration section
After credentials have been created, they need to be provided to the Rule Execution Service. An optimal way to provide these credentials is by entering them on the Runtime Settings page and switching the "Allow Per REST Request" toggle off. It is recommended to keep this toggle off for security reasons. See this video for a demonstration or follow the steps below.
Click on "Configuration" in your Portal header.

Scroll down to Execution section and click on "Manage" next to "Runtime Settings".

On the Runtime Settings page, there is a spot to set Username/Password as well as toggle the "Allow Credentials in REST Request".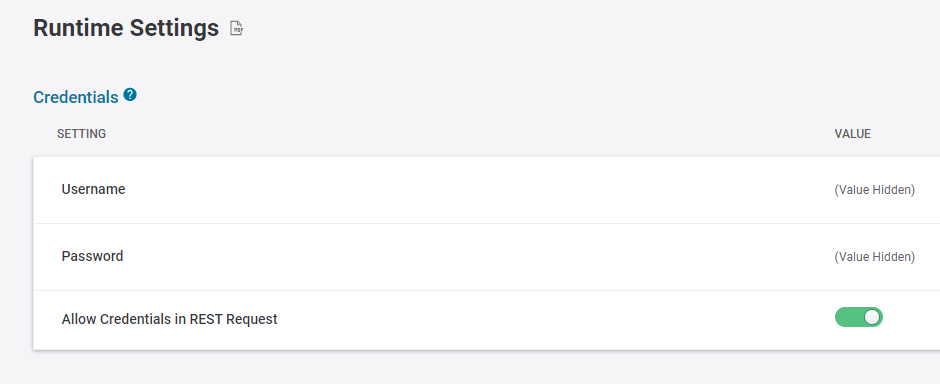 Click on the Edit icon on the right side of the row to set the Username and Password.
Toggle this setting to OFF.

Allow Credentials in REST Request Toggle
When this toggle is set to OFF, sending catalog credentials in the request sent to Rule Execution Service (RES) will not be allowed. Username and password need to be set on the Runtime Settings page as described above.
When the toggle is set to ON, sending catalog credentials in the RES request will be allowed. This is not recommended. To take advantage of this security enhancement, keep this toggle OFF.