If a previous version of InRule is already installed, you may install the new version on the same computer, leaving the original unchanged.
To install side-by-side with the previous version, click Install Side-by-Side.
If you would prefer to upgrade the earlier version, choose an upgrade installation instead.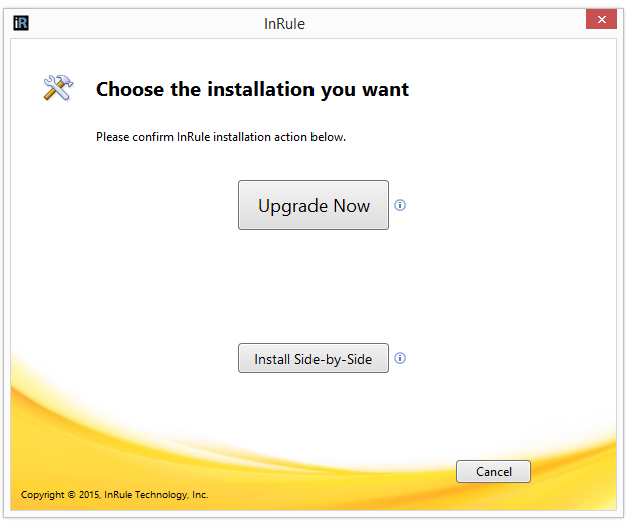 Component Selection
The Component Selection screen shows the components and features already installed in the previous installation.
For each feature, click the drop-down and select whether the feature will be installed.
The following components are not available for a side-by-side installation:
- irWord
- irAdapter for BizTalk Server
- irSDK installed into the GAC
If you would like to change the install location, enter the folder name or click Select Folder. Click Next when you have finished your selections.
License Agreement
Before installing InRule, you must read and agree to the End User License Agreement.
Scroll down to view the entire agreement, then select the I accept the terms of this agreement checkbox.
Click Next to proceed.
Install Type
You have the choice to accept default settings and bypass many of the configuration screens, or to make individual choices suitable to your environment.
Select Express setup to speed up the installation process by accepting the default settings. Select Prompted setup to customize the settings during the installation.
Click Next to proceed.
Prerequisite Check
Just before the actual installation begins, the installer checks the prerequisites for the features and options you have selected. If there are no checks to be made, this screen is not shown.
Select a prerequisite test to display more information in the Description and Notes areas. If you would like to rerun the tests, click the Rerun Tests button.
After the prerequisite tests have been completed, click Next.
Product License Activation
InRule requires a license to operate. Use this screen to enter your license key(s) and activate the product.
Enter your name, organization, and license key(s), and then click Next to activate.
Select the I don't have an internet connection if you need to activate InRule on a computer that cannot connect to the InRule licensing system.
If you don't have a license key, click "What if I don't have a license key?" for more options. These may include:
Contacting your local administrator to obtain your organization's key
Contacting InRule Support to obtain a key
For more information, see the Activating InRule topic.
Configuration Complete
After you finish configuring the installation, you are set to proceed.
Click Next to begin the installation.
Setup Complete
After the installation completes, a confirmation screen is presented.