Our circular clustering visualization provides a quick overview of the clusters and the factors that determine those clusters. Further insights into each cluster are also provided. Purity and Confidence values directly indicate the consistency and predictability of a supervised cluster. Cluster statistics provide detailed analytics of the factors determining a cluster. Together, these features provide more ways to identify cluster insights.
These graphs convey information in several ways. First, through the layers provided they display the hierarchical structure of the relationship between factors in data. The width of the cluster is determined by the count of the objects in the cluster. The color of the cluster is the frequency with which the factor appears in the data (this can be changed to represent the weight of the factor in the cluster by changing the Scale setting).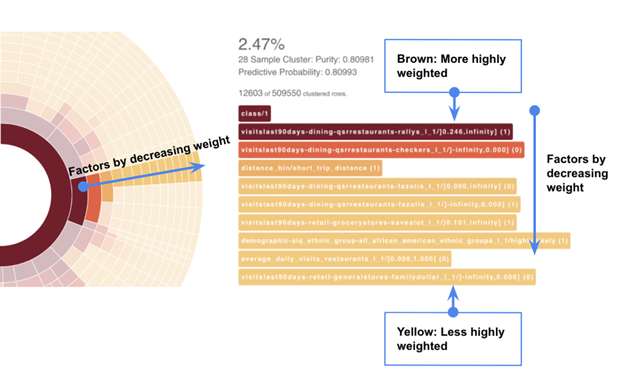 In either viewing method you can view the factors of a cluster by hovering your mouse over a cell. You can click on a cluster to take a detailed look at its member factors and objects.