After one or more tests have been added to a Test Suite in irVerify and all tests have been
configured, tests can be executed either individually or all at once.
Running Tests
Clicking on the Run All button in the irVerify ribbon will run all associated tests in the tests folder. The Run button will run the selected test. If a test folder is selected, the Run button will run all tests in that folder.
Results for the tests are available in the Test Runner pane at the bottom of irVerify.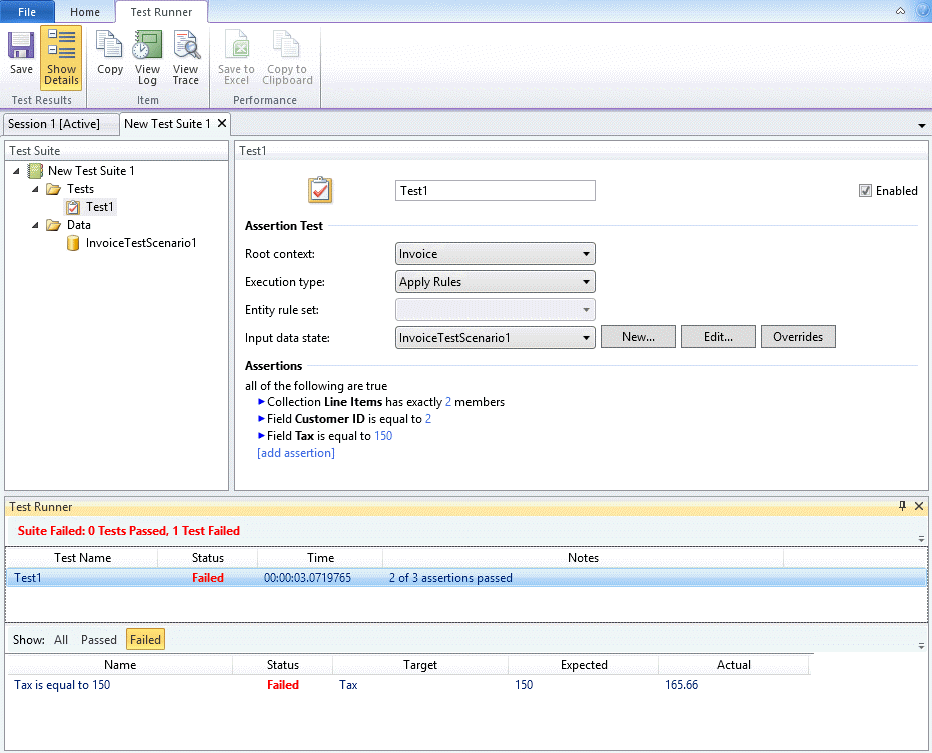 Test Results
The passed/failed results for each test in the tests folder are displayed in the Test Runner pane. Users can view or hide the detailed assertion results of each test by clicking the Show Details button on the ribbon. Highlighting each test displays the list of passed, failed, or all assertions depending on the filter selected. For a performance test, the Detail pane will contain the performance results of the test.
On the Test Runner ribbon, you may use these buttons to work with the test results.
Save - Allows the user to capture test results in a file.
Show Details - Shows or hides the test runner details pane.
Copy - Highlighted results are copied to the clipboard.
View Log - Opens the rule execution log for the applied test.
View Trace - Opens the rule trace viewer for the applied test.
Save to Excel and Copy to Clipboard - For a performance test, performs the request operation using the performance results. See Performance Tests for more information.
NOTE: To enable the View Log and View Trace buttons, select the Test Suite as follows:

These settings only apply to assertion and compare tests.
irVerify can also be set to cease running tests on the first assertion failure found.