Lists are located under Run in the main menu.
In the Lists view, you will find your My tasks list which functions like an inbox where you can perform tasks and monitor process instances. You can also create your own list and use lists shared with you by other users.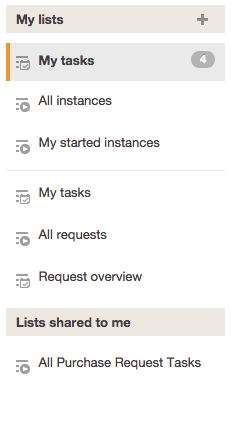 Default lists
Activity lists let you receive, list, filter, and open tasks and process instances. The default lists are My tasks, All instances, and My started instances.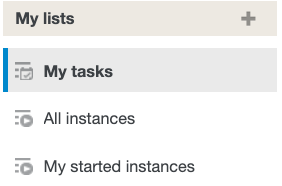 These are turned on by administrators in Space settings, so if you do not see these lists, it means they have not been turned on.

Personal lists
You also have access to your personally created lists, both listed under My lists and under possible list categories, and lists shared to you. Learn how to create a list in the article How To: Create Your First List and learn more about categories in the article Managing Lists.
My lists
Lists shared to me
List category
You can choose to present information that is entered into forms in your instances. This way you can easily get a customized overview of the work and progress of any chosen application, and even export data to Excel. Read more about the Excel export in the article Managing Lists.
Sorting and grouping
When hovering over a column header, another arrow appears. When clicking on it you find sorting and grouping options. The default setting groups the list by date, and sorts it descending by date. Often it is useful to select Group By This Field on the Application column or use the filter Sort Ascending, for example.
List actions
Read more about other List actions.
My tasks
Under My tasks, you find all tasks assigned to you in ongoing instances. This is your inbox, from where you manage tasks and perform work. The tasks can be opened individually, but also be performed from the task list (see below).
The list includes the name of the task, which instance, and the application it belongs to. You will also see who initiated the instance, what date the task was created, and which participant role you have been assigned for the task.
To count the number of tasks you have in your list, click on Item count.

After clicking on Item count you will see the number of items in the list.


Perform tasks from the task list
If enabled, tasks can be completed not only in the Task view but also directly from lists, as long as the task does not have any mandatory form fields.
If you have several tasks of the same type you can complete up to 10 tasks at the same time.
How to complete tasks in lists
Select the task(s) that you want to complete. If you choose multiple ones, note that all the selected tasks must be in the same step and in the same process version

Click on the

Task actions

drop-down in the upper left corner of the list, and select Complete tasks.


Why can I not complete tasks from the List view?
There are several reasons why you are not able to complete tasks from lists:
If the selected tasks are in different process versions the Complete tasks

button will not be shown.
If the task includes forms with mandatory fields the task can not be completed from the list and an error message will be shown.
If the list was configured to Disable completing tasks in list view, you are not able to complete any tasks from the list view.


All Instances
Under All instances, you will find all instances, completed and ongoing, that you have been involved in and for applications where you have at least a monitoring role. This is a pre-configured list, meaning it is configured automatically if the setting is selected. If you find this view overwhelming because there are many instances in your list, you can create a custom instance lists that is more suited to your individual needs.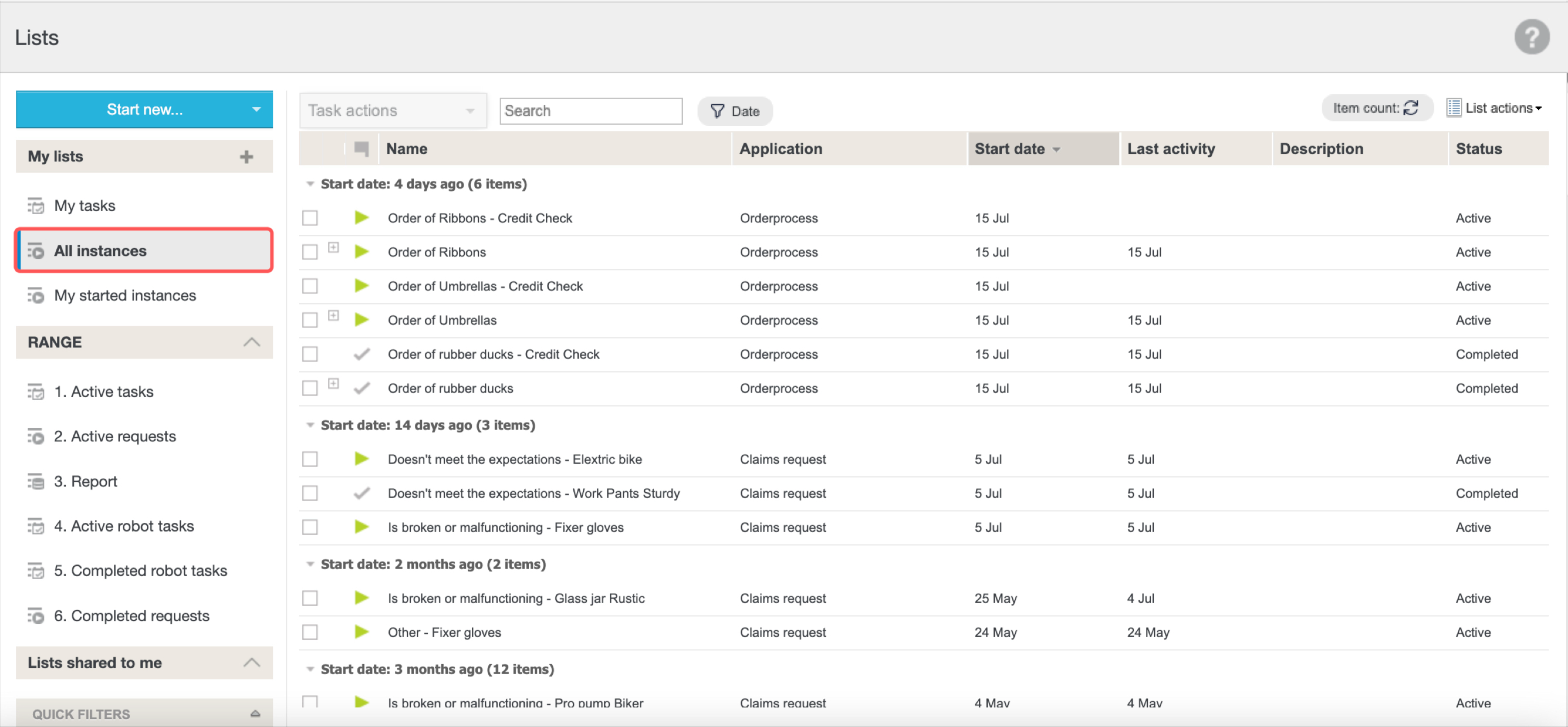 If you do not see the All instances list and would like to, it will need to be turned on under Space settings. Only administrators have access to Space settings. Administrators can turn standard lists on or off by going to Space settings and scrolling down to List settings. Do not forget to select Save changes when you are complete. Choosing this setting will automatically generate the lists: My tasks, All instances, and My started instances.
You can read more about Space settings here.
My started instances
Under My started instances you find all instances, completed and ongoing, that you have initiated.