This article will help you find the necessary links to help you set up your space, create your first process application, and learn how to administrate your account.
Key features
If you are new to Process Automation and need to know the key features, we have collected some articles that are perfect for you. Here you can read about creating your first process model, process application, form, and more.
Edit account
Access your account settings by clicking on Edit account on the start page, or by clicking on your user name in the top right corner and selecting Edit account. These settings are applied to your personal account.
These are the available settings:
Personalization
Account settings
Profile picture
Delete account
Out of Office (only visible if this feature is enabled for your account)
Contracts
Depending on the contract settings, you may not be able to edit your own user information. In that case, contact your contract manager to edit the information. For more information on finding your contract manager, read more in the article About Contract Management.
Personalization
Here you can see and change your name and the language that you wish to use in Process Automation.
Account settings
This is where you change your email address and your password.
Change email
Click on Change email and fill in a new email address. Then enter your password and click on Save changes.
You have to verify the new email address before it is updated.
Change password

Click on Change password and fill in your current password and the new password that you wish to use. Repeat the password and click on Change password to confirm.

Profile picture
You can personalize your account by uploading a profile picture of yourself. Click Choose file and choose one from your computer. The image will be saved automatically.
Your profile picture will be shown on the Startpage as well as in the Task view next to comments that you have made and when clicking on your name in the Performer column in a list.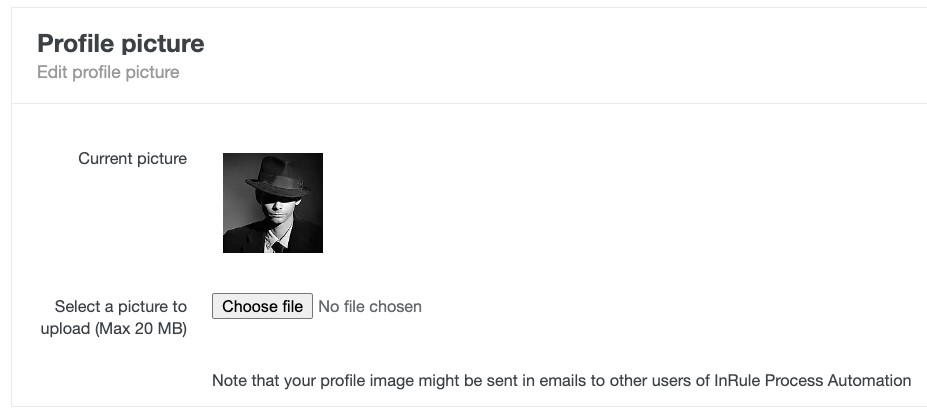 You can not delete the image, only replace the image with a new one.
Delete Account
As long as you are not a Space owner, you can delete your Process Automation account if you no longer wish to have one. In order to delete your account click on Delete user and then confirm by entering your password.
This is irreversible! Read the article, Manage User Accounts and Licenses to understand the implications of deleting your account.
If you are a Space Owner in a space with more than one user, assign the Space Ownership to another user, and then you can delete your account as described above.
If you have a trial account where you are a Space Owner and there are no other users in the Space, contact our support at support-eu@inrule.com to delete your account.
Out of office
If you have this feature activated on your account, you can read more about it in these articles:
Contracts
Under this section, you can see information about what contract you belong to.

My Startpage
My Startpage can be found in the spaces menu in the top right corner. This is where you see information about your account. In the Got Questions section, you can find links to the Help Center and an opportunity to get in contact with Process Studio experts.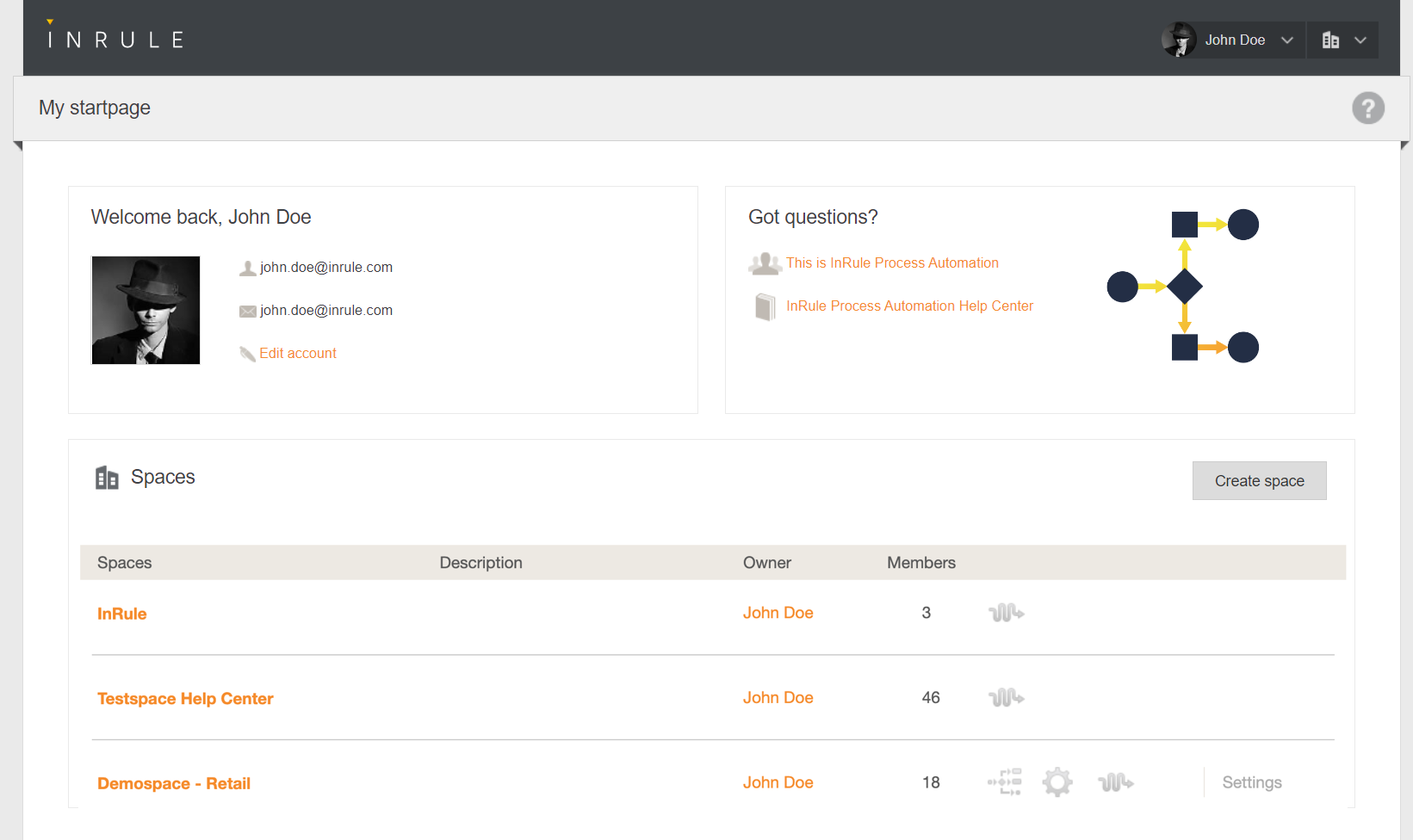 Navigating
From your Startpage, you can navigate to the spaces that you wish to work in. All your process models, apps, and activities (tasks and instances) are divided into spaces. Before you can work with processes, you must choose which space to work with.
Navigate to the desired space in the menu to the right in the top banner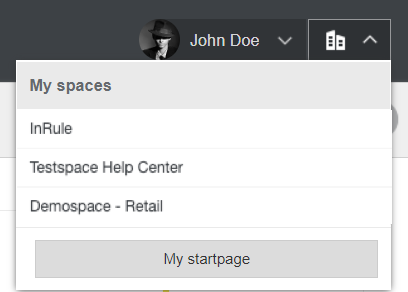 Or, click on the space name in your lists of spaces at the bottom of the My Startpage.

Once you have chosen which space to work in you will end up on the space start guide, here you can start work by clicking on Model, Build or Run.
If your space has settings for a custom space experience. If so, use the step above for navigation. You can learn more in the article, Spaces and Space Settings.
At any point, you can easily navigate between your different spaces and the features Model, Build, Run by using the drop-down menus.
You can also use the Space shortcuts found on the My Startpage to go directly to your models, apps, and activity lists or to get to the Space settings page.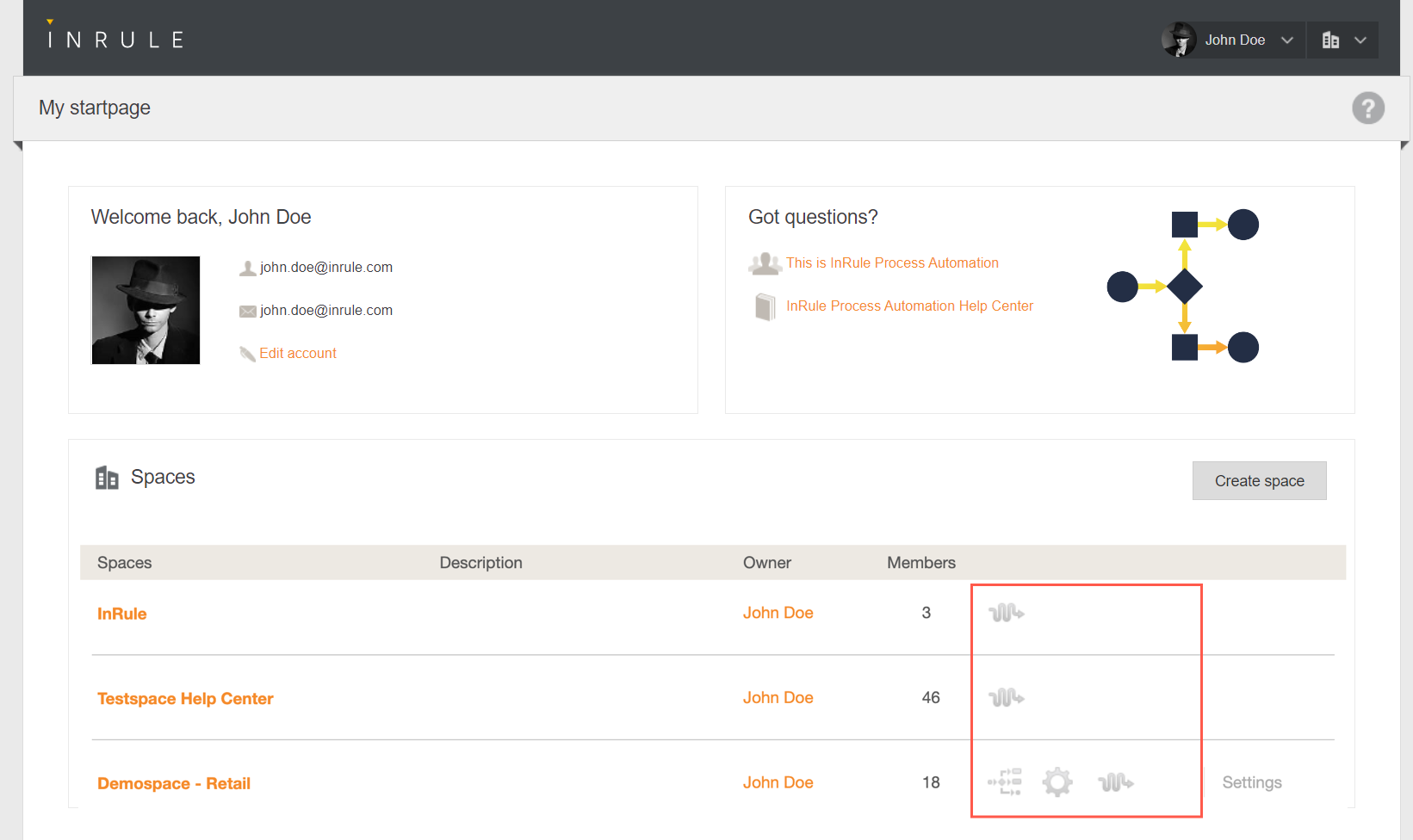 At any time you can access your account details by hovering over the menu button on the top right of the screen. Here you can see your contact details, get quick access to your account settings and also log out.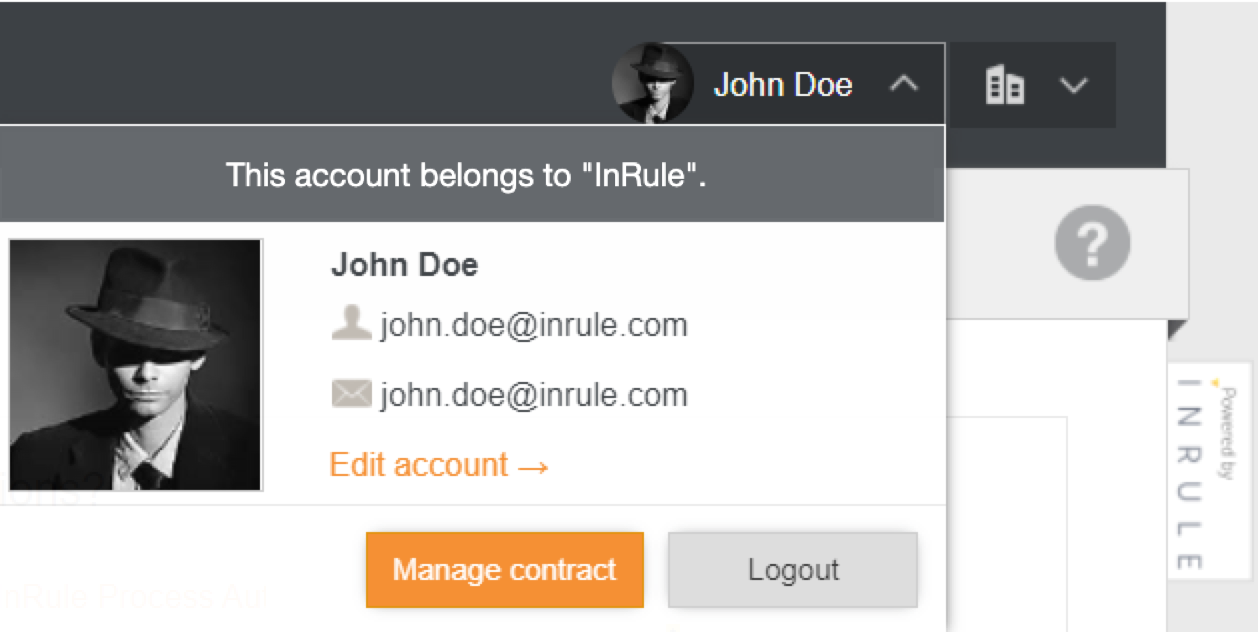 Got questions?
This is where you can get in touch with Process Automation experts, open our Help Center to learn more about how to use Process Automation.
If you click Contact Process Automation Experts you can send your question to our Process Automation business support staff who will be able to help you with technical, practical, or general questions regarding how to use Process Automation in the best way.

Invites
If you have any pending invites to other Spaces you will see them on My startpage. Invites are also sent via e-mail so that you get a quick heads-up that you have been invited to a new space to collaborate with someone else.
You can choose to reject or accept the invite. Invitations that you accept will result in the space moving to your list of Spaces found below your invites. Rejected invitations will disappear.
Spaces
Here is where you see a list of all the spaces that you have created or that you have been invited to and accepted the invitation to.
You can click on the name of a space to open it.
Here you can create open and edit the settings of each space. This is of course dependent on your permissions. Read more about working with Spaces.

Process Studio
For information on the modeling tool, Process Studio read the article Introduction to Process Studio.